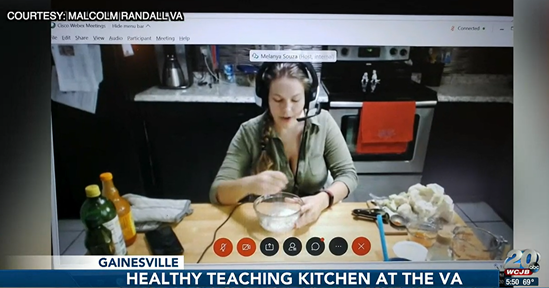 Veterans across the nation are participating in many types of VA health programs from their homes, thanks to VA Video Connect.
One program, The Healthy Teaching Kitchen offered at the North Florida South Georgia VA, has provided Veterans with nutritious recipes and classes based on making healthy lifestyle choices. VA dietician Melanya Souza said switching from in-person to video classes when the COVID-19 pandemic began actually improved the program. "I can work with (Veterans) with their own appliances, their own equipment, their own setup, and help them troubleshoot and figure out what works best for them." The program recently caught the attention of the local ABC News affiliate. Watch the news segment at this link.
The Central Arkansas Veterans Healthcare System similarly began offering Veterans the option to attend Tai Chi classes over VA Video Connect. The journal Nursing Forum recently published a study examining the success of the program. Read the study at this link.
To learn about programs that may be offered over VA Video Connect in your area, contact your local VA facility or visit their website.