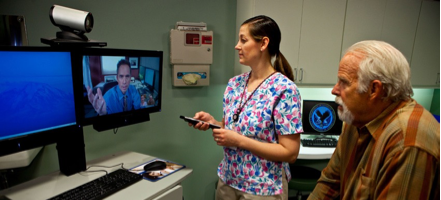 The Winter 2018 edition of FedHealthIT Magazine features an interview with Dr. Neil Evans, MD, Chief Officer of Connected Care, about the future of digital health at VA.
In the article, entitled "Veterans Affairs: Moving Towards Healthcare for Tomorrow," (starting on page 14) Dr. Evans shares an in-depth look at how Connected Care technologies are transforming Veterans' health care.
"A patient's health journey doesn't occur just in the exam room with a clinician, but rather, plays out on a daily basis throughout their lives. Technology now allows us to more effectively extend the resources and relationships of the health care system into the daily lives of the patients we serve," he explains. "Our goals are to enhance relationships between Veterans and VA staff, to improve the quality and experience of care, and to increase the convenience and efficiency of care delivery."
Read the full article here (see page 14).
Read more