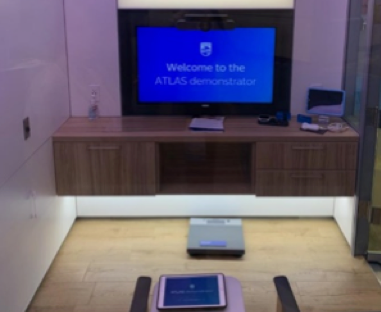 The ATLAS (Accessing Telehealth through Local Area Stations) initiative launched last month with a ribbon-cutting ceremony celebrating the opening of the ATLAS site at VFW Post 6786 in Eureka, Montana. The ATLAS program aims to serve some of the nation's most rural communities by standing up private appointment spaces that serve as virtual exam rooms for Veterans to connect to VA providers by video. The ultimate goal? To bring VA care closer to Veterans' homes.
Connected Care representatives recently shared details about the initiative's launch and its associated public-private partnerships with online federal news publication, Nextgov.
"The challenge is that we have the digital divide in the country," the article quotes Dr. Kevin Galpin, Connected Care's Executive Director of VA Telehealth. "So, there are Veterans who do not have sufficient internet, they don't have the technology, and in some cases, they don't have the digital skills."
Dr. Leonie Heyworth, VA's National Synchronous Telehealth Lead, emphasized how extensive travel distances and other circumstances make it incredibly difficult for rural Veterans to make it to their appointments. Over 3 million of the Veterans that VA serves live in rural areas and may have limited internet connectivity or long travel times to medical facilities.
Strategic partnerships are driving ATLAS, which is part of VA's Anywhere to Anywhere initiative. VA provides video telehealth appointments through VA Video Connect, while private-sector organizations helped to design and build the exam stations, as well as host them. Additional sites across the country will soon be located inside American Legion posts, VFW Posts, and Walmart clinical services rooms.
Read more