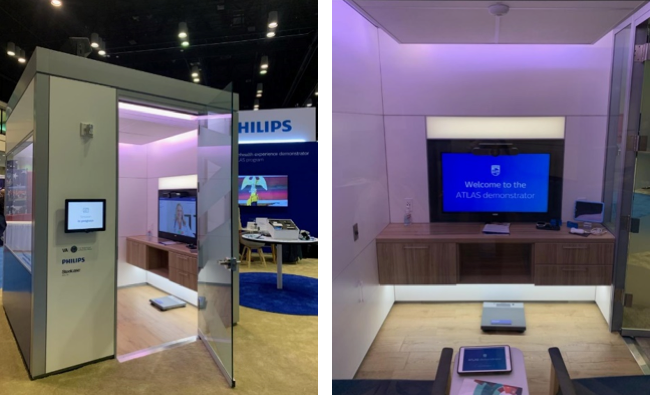 In less than two minutes inside an ATLAS pod, you'll rethink every trip you've made to a doctor's office. The hallways, the fluorescent lighting, and the clinical exam rooms are nowhere to be found.
And by the time you notice their absence, the monitor speaks.
Advancing Telehealth through Local Access Stations (ATLAS) is the U.S. Department of Veterans Affairs' latest innovative virtual health care experience to increase Veteran access to care. ATLAS caters to Veterans living in rural areas with long travel times to VA health care facilities or with limited connectivity at home.
A demonstration was available at the 120th Veterans of Foreign Wars (VFW) National Convention in Orlando, Florida, held July 20–24, 2019. The ATLAS pod demonstration is currently making its next appearance at the American Legion annual conference in Indianapolis, Indiana, August 23-29, 2019.
VFW is one of two Veteran service organizations that will offer ATLAS VA telehealth care at select locations around the country. The pod is spacious enough for a Veteran patient and a family member or caregiver to videoconference with a VA provider through a large monitor.
For more information about ATLAS, read these blogs on VAntage Point and watch this video, newly posted on VA's YouTube channel:
VA Promotes ATLAS at 120th VFW National Convention
Read more