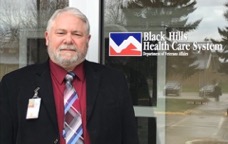 Last winter Dr. Gilbert Teague began working with his VA facility's team to implement the VA National TeleStroke Program to help improve stroke care for rural Veterans. An Army Veteran himself, Teague is chief of primary and specialty medicine at VA Black Hills Health Care System in rural Fort Meade, South Dakota.
Two months later, that same program saved his own life when he suffered a stroke at home.
The ambulance brought Teague to the Fort Mead VA Medical Center, and the chief of staff on duty immediately contacted the VA TeleStroke specialist on duty based in New Haven, Conn. That physician connected to Teague and his onsite-care team within minutes to examine him, review his medical history and brain imaging, and direct the administration of a clot-busting medication that ultimately made all the difference in Teague's survival and full recovery.
Read more