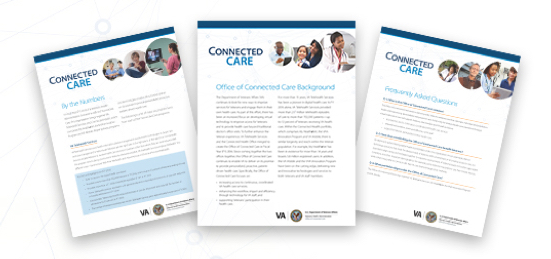 The Office of Connected Care has updated its Background and By the Numbers information sheets. Both documents now reflect FY 2018 statistics for the VA Telehealth, VA Mobile and My HealtheVet programs. Important data points in these newly revised resources include:
VA provided more than 2.29 million telehealth episodes of care in FY 2018.
There are now more than 43 apps available in the VA App Store.
My HealtheVet logged 66 million sessions in FY 2018.
Connected Care programs are expanding Veterans' access to care, enhancing health care coordination across VA and supporting Veterans' participation in their own care.
Visit the Connected Care Outreach Toolkit web page to learn more, and consider sharing these materials to spread the word about Connected Care at VA.
Read more