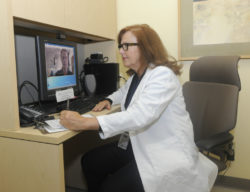 VA Telehealth saw record-breaking growth in fiscal year 2018, and new industry partnerships promise to make it even easier for Veterans to access VA care through telehealth in the coming year and beyond.
Last year, VA delivered 2.29 million episodes of telehealth care, which includes several types of telehealth and more than 50 specialties. About half – more than one million visits – were delivered through video telehealth, a 19 percent increase over the previous year. Rural Veterans have benefited greatly. Nearly half of the 782,000 patients who used VA telehealth in fiscal year 2018 live in a rural community.
This year, VA's new Advancing Telehealth through Local Access Stations program aims to expand these efforts by overcoming the digital divide for Veterans without high-speed internet access. Partnerships with Walmart, Philips, the American Legion, Veterans of Foreign Wars, T-Mobile and Verizon have recently been announced. In soon-to-be-selected pilot locations, Veterans will be able to go to a local Walmart or VSO location to receive VA care remotely through a secure internet connection. The mobile carrier partnerships will enable Veterans to participate in VA Video Connect appointments without incurring data charges.
According to VA Secretary Robert Wilkie, "VA's telehealth capabilities are bridging the care gap for many Veterans. This technology gives Veterans access to the timely, quality care they deserve without having to travel great distances to a VA facility."
Read more in this U.S. Medicine article.
Read more