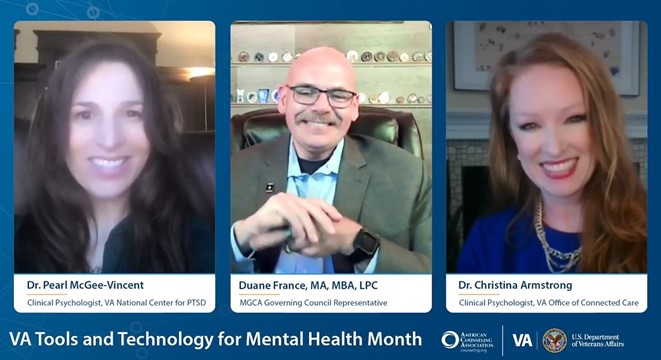 Connected Care recently teamed up with the American Counseling Association (ACA) for a Facebook Live event to talk about how VA uses telehealth and mobile technologies to deliver mental health care to Veterans when and where it is needed.
Many thanks to the following VA and ACA experts who hosted the event for Mental Health Month:
Christina Armstrong, Ph.D., Clinical Psychologist, Connected Health Implementation Strategies, Office of Connected Care, Patient Care Services
Pearl McGee-Vincent, Psy.D., Clinical Psychologist, Director, Joint Incentive Fund Mobile Mental Health Apps Project, Acting Deputy Director, Dissemination & Training Division, National Center for PTSD
Duane K. L. France, LPC, Chair of ACA's Public Policy and Legislation Committee, and Co-Director of the Service Members, Veterans, and their Families Technical Assistance Center within the Substance Abuse and Mental Health Services Administration (SAMHSA)
VA technologies spotlighted during the event include Annie, VA Video Connect, VA Mental Health Checkup, Mindfulness Coach, PTSD Coach, and Insomnia Coach. View the recording of this event on ACA's Facebook page.