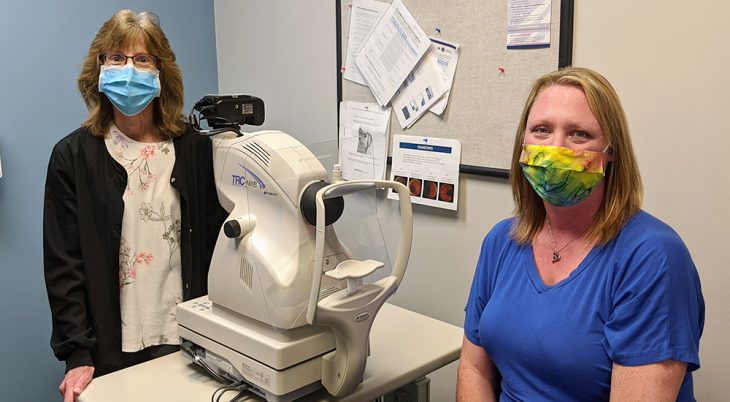 Cynthia Lang has been certified to complete TeleRetinal imaging since 2013. She is a telehealth technician at Tomah VA Medical Center's La Crosse outpatient clinic. Part of VA Store and Forward Telehealth services, TeleRetinal imaging uses a special camera to take images of the lining inside the eye. The images are then saved and later reviewed by a VA optometrist.
Recently at an imaging appointment, a Veteran told Lang he had been experiencing a decrease in vision in his right eye for 10 days. Based on the Veteran's history and reported change in vision, Lang knew getting good images and coordinating care quickly would be very important.
The images revealed a partially detached retina that required immediate interventions to prevent vision loss. Through a collaborative team effort with the Veteran's Patient Aligned Care Team (PACT) and VA optometrist Anjela Krome, the Veteran was able to be seen quickly by a community provider the same day and receive the care he needed.
Last month, VA launched a National TeleEye Screening Expansion initiative that has the potential to reach a million more Veterans with imaging services.