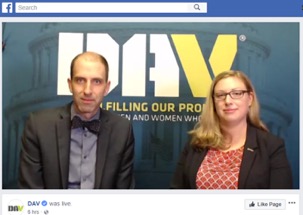 The Veterans Health Administration Office of Connected Care, in partnership with Disabled American Veterans (DAV), hosted an informative Facebook Live town hall about VA Telehealth Services last week.
Connected Care Chief Officer Dr. Neil Evans and Mary Dever, an Air Force Veteran and DAV Assistant National Director of Communications, discussed VA's use of telehealth and other connected care technologies to provide care to Veterans when and where they need it. The conversation covered video appointments in the home and clinic, telehealth specialties that give Veterans access to experts in the care they need and health monitoring devices that Veterans use in their homes. Dr. Evans, a primary care physician at the DC VAMC, addressed questions from Dever and viewers live on air, while a panel of subject matter experts from the Office of Connected Care and DAV answered the remaining questions in the post's comment section.
For those who missed it, the video is archived on DAV's Facebook page. Watch now and click "share" to help us expand the reach of this great event.
Read more