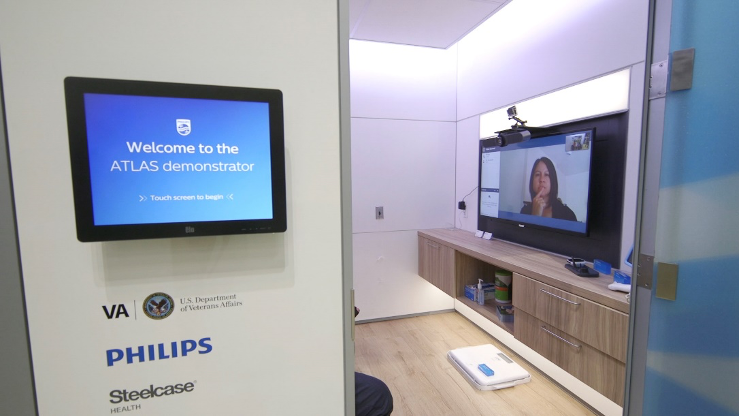 The Department of Veterans Affairs (VA) ATLAS program has been making headlines for its unique telehealth pod located inside Veterans of Foreign Wars (VFW) Post 6786 in Eureka, Montana. ATLAS, which stands for Accessing Telehealth through Local Area Stations, is a VA effort to bring health care access to Veterans in rural communities, such as the remote town of Eureka.
USA Today reported on the unique approach to telehealth that VA, Philips, and VFW took in Eureka, when opening the first ATLAS location in October 2019. Discussions with local Veterans resulted in the creation of a futuristic, ATLAS telehealth "pod," designed by the Phillips team. This pod provides a comfortable, private space for Veterans of Eureka to have video appointments with VA providers within their local VFW Post.
Normally, Veterans living in Eureka drive about 5 hours, or 10 hours roundtrip, to the closest VA hospital for routine appointments or consultations. With the help of the ATLAS telehealth pod, Veterans have been able to virtually speak with health care professionals without having to dedicate an entire day to travel.
"This is meeting the needs for the Veterans here in Eureka, and that's the most important thing," local Veteran Kevin Jamison told USA Today.
This year, ATLAS will roll out additional sites across the country, located inside American Legion posts, VFW Posts, and Walmart clinical services rooms.
Read the article on USAToday.com