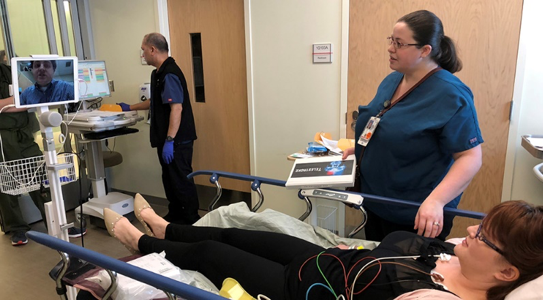 The VA National TeleStroke Program continues to expand and improve emergency stroke care for Veterans. Since launching in 2017, the program has built a team of 20 VA stroke neurologists across the United States who deliver acute stroke services remotely through a live telehealth video feed at the Veteran's bedside in over 30 VA medical centers. To date, more than 1,000 emergency consults have been conducted.
Now, the TeleStroke Program is set to extend its reach throughout VA, and beyond, with the release of the new Code Stroke App. The app, which will be available for free on the Apple App Store, is designed for clinicians to use during a stroke code to reduce time-to-treatment by providing real-time information to all team members regardless of location.
According to William Cerniuk, VA Mobile Health Program Director, "The Code Stroke app focuses on accelerating the episode of acute care by organizing and managing the repetitive aspects of care, while providing decision support, structured interaction between neurologist and ICU/ER staff, and automatic documentation."
Read this recent VAntage Point blog to learn more.
Read more