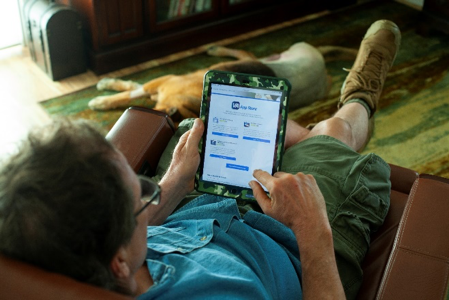 Mobile apps are everywhere. We use them to order food, get directions, play music, edit pictures, post to social media, and catch up on news. The digital age has affected almost every facet of our lives, and health care is no exception.
Networked health care systems, such as the Veterans Health Administration, are embracing mobile apps to improve patient care. A June 2019 study conducted by SOTI found that 57% of U.S. physicians now offer mobile apps - and their patients are embracing them. The survey of 552 consumers revealed that 75% of patients felt mobile apps led to a faster and more convenient health care experience. The functions found to be most used by the patients in the study were scheduling appointments (70%), viewing lab results (52%), and requesting prescriptions (40%).
VA Offers Powerful Mobile Health Options
The newly redesigned VA App Store groups dozens of VA web and mobile health apps into categories, spotlights trending apps, and suggests similar apps based on the app being viewed. VA apps offer powerful features for both Veterans and VA health professionals. Take these two examples:
VA Video Connect connects Veterans with their care team from anywhere through videoconferencing appointments.
Exposure Ed gives providers the tools necessary to talk with Veterans about their exposure to chemical, physical, and environmental hazards during their service.
Soon Veterans who use an Apple device will also be able to link their VA electronic medical records to Apple's Health app. This will enable them to view graphical representations of their medications, procedures, allergies, lab results, clinical visits, immunizations and other relevant health information.
Veterans can also use My HealtheVet to play a more active role in their care online. VA's health portal is optimized for mobile devices and offers built-in applications that enable Veterans to refill VA prescriptions, send secure messages to their care teams, and view their health records.
Visit the VA App Store and My HealtheVet to learn more about VA's powerful mobile health options.
Read more