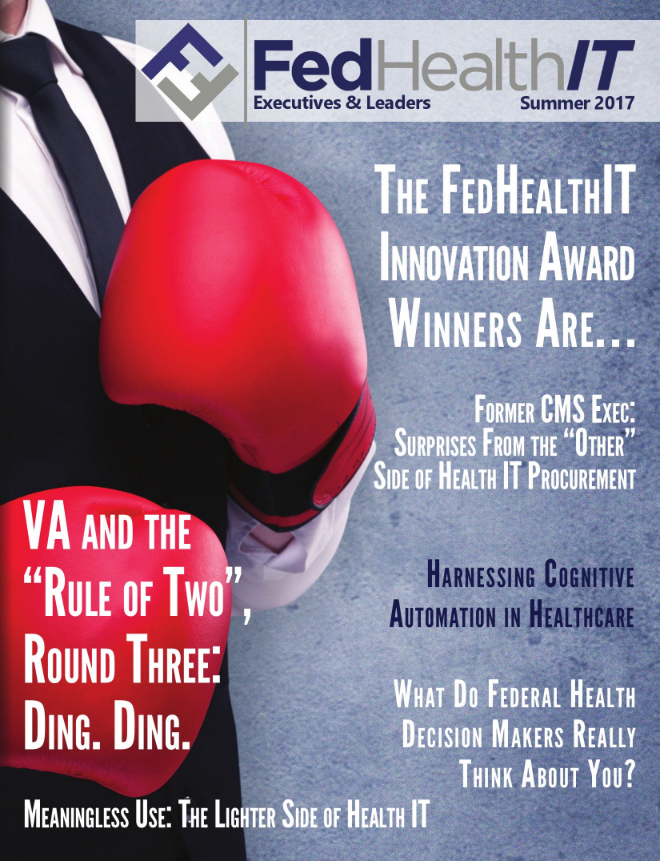 VA Connected Care initiatives are among 25 federal health programs selected to receive a FedHealthIT Innovation Award, including the Annie, VA Video Connect and Veteran Appointment Request (VAR) apps. Entries were nominated and selected by peers for driving innovation and results across Centers for Medicare & Medicaid Services, Health and Human Services, Military Health and Veterans Affairs.
The award-winning Connected Care programs focus on improving Veteran access to care, creating more opportunities for Veterans to communicate with their VA care teams and enhancing the overall quality and convenience of care for Veterans.
All award winners are included in the 2017 Summer Edition of FedHealthIT magazine and were honored at the 3rd annual Innovation Awards celebration on June 6 in Washington, DC. Neil Evans, MD, Chief Officer of the Office of Connected Care, was one of the featured speakers at the award ceremony.
Read more about the award recognition in this Office of Public and Intergovernmental Affairs news release, and find all winning entries on pages 16-17 of the magazine.
Read more