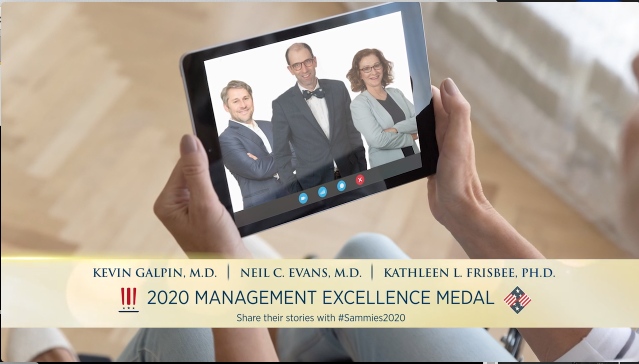 Congratulations to Drs Neil Evans, M.D., Connected Care Chief Officer, Kathleen Frisbee, Ph.D., MPH, Executive Director of Connected Health, and Kevin Galpin, M.D., Executive Director of Telehealth Services, on winning the 2020 Samuel J. Heyman Service to America (Sammies) Medal for Management Excellence. They were honored during a star-studded, hour-long virtual celebration on Monday evening, Oct. 5, that featured nine honorees in seven Sammies award categories.
The televised program aired via a livestream link and featured comedian Kumail Nanjiani as host. A full lineup of celebrities presented the evening's honorees. Nick Kroll from "Big Mouth" and the "Kroll Show" narrated the Connected Care segment, which also featured remarks from VA Secretary Robert Wilkie. The show's introduction also included recorded video segments of both former Presidents Barack Obama and George W. Bush offering their congratulations to all 2020 honorees.
Often referred to as the Oscars of government, the Sammies recognizes outstanding federal employees who serve the public good to address America's greatest challenges. The Management Excellence award honors a federal employee or team for a significant accomplishment that exemplifies efficient, effective, and results-oriented government. Drs Evans, Frisbee and Galpin together have led Connected Care's innovative and accelerated efforts on telehealth, mobile apps and other virtual health care options for Veterans.
The full recorded broadcast is available on YouTube. Watch the Connected Care segment below:
https://player.vimeo.com/video/465129633