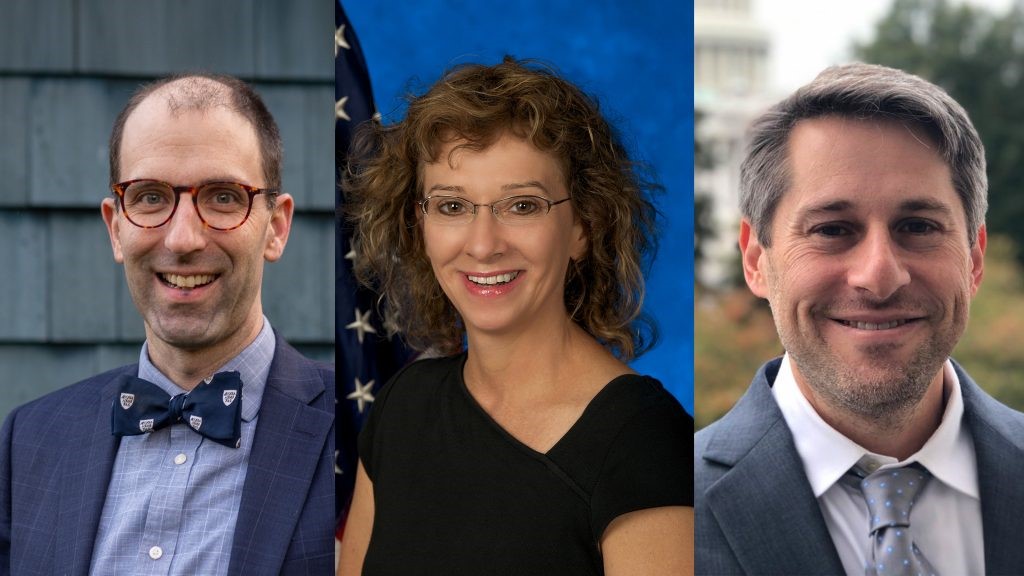 The Office of Connected Care is proud to announce that our program, Connected Care, and executive leadership team are among the 2020 Samuel J Heyman Service to America Medals (Sammies) finalists. Often referred to as the Oscars of government, the Sammies honor outstanding federal employees who serve the public and address America's greatest challenges.
Named as 2020 finalists in the Management Excellence category are: Chief Officer for Connected Care Dr. Neil Evans; Executive Director for Telehealth Services Dr. Kevin Galpin; and Executive Director for Connected Health Kathleen Frisbee, Ph.D. Finalists in this category are recognized for significant accomplishments that exemplify efficient, effective and results-oriented government.
During the past decade, Connected Care has been laser-focused on making remote health services available to Veterans enrolled in VA health care. Drs. Evans, Galpin, and Frisbee have led those innovative efforts including telehealth, mobile apps, and other virtual health care options. Their combined skills and leadership in technology, policy, regulation, medicine, and management is the guiding force behind VA's expansion of health care services by merging health care with technology.
"VA has long been a leader in incorporating innovative technologies to meet the health care needs of the nation's Veterans," said VA Secretary Robert Wilkie. "It's inspiring to see VA employees apply their medical expertise to innovations that elevate the quality of care delivered to Veterans."