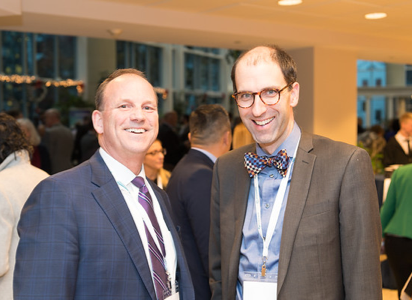 VA is committed to developing technology solutions that drive change and have a profound impact on Veterans' lives. This year 19 VA leaders, including six from the Office of Connected Care, were named to the 2020 FedHealthIT100 list. The award recognizes individuals for their role in "making an impact, going above and beyond, driving innovation, challenging conventional wisdom, and driving positive outcomes."
Connected Care FedHealthIT100 winners include:
Neil Evans, MD, Chief Officer
Kathleen Frisbee, MPH Ph.D., Executive Director, Connected Health
Kevin Galpin, MD, Executive Director, Telehealth Services
Theresa Hancock, Director, My HealtheVet
Shawn Hardenbrook, Director, Web and Mobile Solutions
Leonie Heyworth, MD, Director of Synchronous Healthcare
Honorees were recognized at the FedHealthIT100 event, "A Peek at the Year Ahead & Holiday Celebration," on Dec. 2, 2019, in Washington D.C. Prior to the award ceremony, Dr. Evans participated in an 11-member executive keynote panel that discussed initiatives and programs that will drive federal health technology in 2020.
Connected Care's Treva Lutes was also recognized at the event as a 2020 Federal Health Communicator of the Year. Nominated and chosen by a panel of industry and government leaders, this award recognizes professionals who have demonstrated a commitment to the enhancement of communication and relationships between government, industry, and the federal health community they serve.