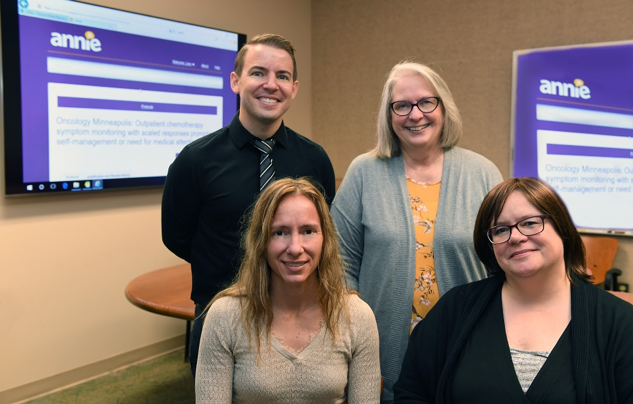 Veterans with cancer who undergo aggressive therapies often endure adverse effects. The worst symptoms, however, usually happen at home following chemotherapy and other treatment. To provide these Veterans with enhanced support for symptom management, a team at the Minneapolis VA Medical Center in Minnesota decided to enlist the help of Annie App – VA's automated text messaging system.
"Patients know they are experiencing symptoms, but they don't always know when it's too much or how to react," explains Connie Jaenicke, NP, Nurse Navigator in the Minneapolis Hematology/Oncology Department. "We worry about patients not seeking treatment for these symptoms early enough to avoid a hospitalization. This can worsen a patient's quality of life unnecessarily and delay or preclude future chemotherapy."
The Minneapolis team collaborated with Connected Care to develop Annie messages for symptom management. The group then recruited 15 Veterans to participate in an eight-month study period. Their final report, "Use of Mobile Messaging System for Self-Management of Chemotherapy Symptoms in Patients with Advanced Cancer," was recently published in the journal Federal Practitioner.