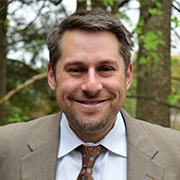 Executive Director, Telehealth Services
Office of Connected Care
Veterans Health Administration (VHA)
U.S. Department of Veterans Affairs (VA)
Dr. Kevin Galpin is the Executive Director of VHA Telehealth Services aligned under the Office of Connected Care. He is responsible for overseeing the implementation and coordination of telehealth technologies throughout VA.
Dr. Galpin is a physician, board certified in Internal Medicine and Clinical Informatics. He has worked in the Veterans Health Administration since 2003, serving in several positions at the Atlanta VA Medical Center and in the Southeast Network, including Primary Care Clinic Lead Physician, Assistant Chief of Medicine for Education, and VISN Chief of Health Informatics.