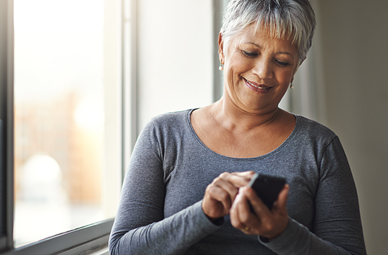 If you are both excited and a little nervous about getting the COVID-19 vaccine, Annie text messages can help. Annie is VA's automated text message service that sends Veterans health information and reminders. It works on any cellphone with texting capabilities.
There are many types of Annie text messages. VA developed Annie's COVID-19 Vaccination Support text messages specifically to provide Veterans with:
Helpful, trusted information about the vaccine
An understanding of possible side-effect symptoms
Tips for treating symptoms at home or knowing when to call the doctor
General reminders to get your second COVID-19 vaccine injection
How to Start Annie Messages
To receive Annie text messages, you must register first. Then, on the day you receive your first COVID-19 vaccine injection or shortly thereafter, simply text SUB COVAC to Annie (75338) to subscribe.
Please note: These Annie messages are intended for use during the two-dose COVID-19 vaccination process. Subscribing with "SUB COVAC" beforehand will not be helpful to you.
Additional instructions are available in this flyer.
You can also watch this how-to video to learn more: