If you're worried about catching the coronavirus known as COVID-19, Annie messages may be able to help. Annie App is VA's automated text messaging program that sends health information and reminders to you. Any cellphone with texting capabilities can receive Annie messages.
Annie App's 'Coronavirus Precautions' messages can help you monitor symptoms and advise you when to contact your VA care team or a nurse triage line. The messages also provide general wellness tips and steps you can take to protect yourself.
Annie's 'Coping During COVID-19' messages offer coping tips to help ease feelings of anxiety, anger, depression, and isolation.
To participate in the Annie program, you must first register online. Once your registration is complete, you can subscribe to Annie's health and wellness message protocols. Simply text Annie (75338) with the word SUB and the protocol's keyword.
For the Coronavirus Precautions protocol, text SUB COVID.
For the Coping During COVID-19 protocol, text SUB COPE.

Read and share this these flyers for detailed instructions: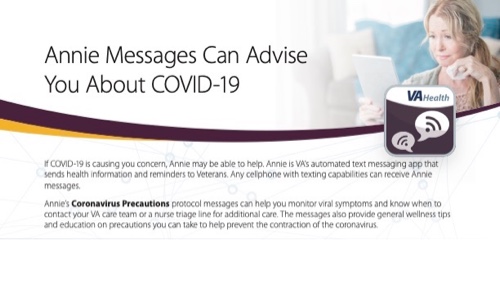 Annie Messages Can Advise You about COVID-19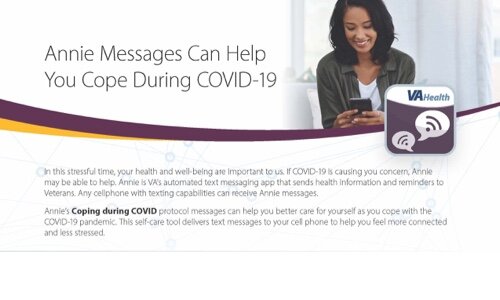 Annie Messages Can Help You Cope During COVID-19