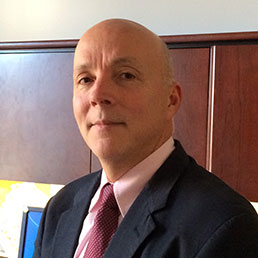 Deputy Director for Telehealth Services
Office of Connected Care
Veterans Health Administration (VHA)
U.S. Department of Veterans Affairs (VA)
John Peters is the Deputy Director for Telehealth Services. Mr. Peters has worked in VA Telehealth Services since 1999, collaborating with the VA's clinical, technical, and administrative leaders to help create, enhance, and expand VA's telehealth programs, policies and services. Prior to joining the VA, Mr. Peters worked as a biomedical engineer at the US Naval Medical Logistics Command providing medical equipment for US Navy hospitals, clinics and ships. Mr. Peters received his Bachelor of Science degree in mechanical engineering from the University of Notre Dame in 1987, and continued his studies at the graduate level in biomedical engineering at Georgetown University, where he received his Master of Science degree in 1992.